Call us +49 (0) 6266 9699 000
Half empty balikbayan box
Half empty balikbayan box  size of ( 73x44x30cm ) 96 Liters we pick up with own driver in our ZIP Code areas  or with DHL for remote areas limit 31,5KG
Advantages:
More stable box: The box is suitable for 70kg as per factory. Our price is valid for weight till 31.5 kg. Overweight boxes have extra charge according our price list.
Free workday scheduling when sending: You can give your ready filled box to any DHL driver or DHL office. Alternatively we can schedule a driver to come to you and to pick up the box at the desired day.
Easy handling because the boxes are not so big and heavy instead the weight is divided into 2.
Possible sending of one single half box to separate destinatinon with additional fee of 15 EUR.
2 half boxes cost as much as one XXL box and discount applies for more boxes. 2 half boxes same price as one big box.
Balikbayan Box XXL (empty carton with papers)
Empty Balikbayan Box 73x44x57 CM size. Together with the box you receive the address stickers and fragile stickers as well as the contract/agreement which must be filled out and given to the driver during pick up. You will recieve a copy of the paper together with your box number for tracking the box.
Please pay the order when finishing the order process.#
Update Container Verspätungen
Leider gab es bei dem Container vom Januar und vom Februar größere Verspätungen, die ursprünglich angekündigte Zollfreigabe dieser beiden Container wurde nicht eingehalten. Wir haben jetzt die Verbindliche Auskunft bekommen dass die Container am Samstag den 14.05.22 aus dem Zoll entlassen werden. Leider ist der weltweite Containerverkehr momentan stark gestört, vor Singapur und den anderen Häfen liegen viele Schiffe die nicht abgefertigt werden. Hier ein Bild der Lage vor Singapur das ich 11.05.22 aufgenommen habe. Wir bitten Sie ca 4 bis 8 Wochen Verspätungen einzukalkulieren wenn Sie Pakete verschicken. Danke für Ihre Verständnis.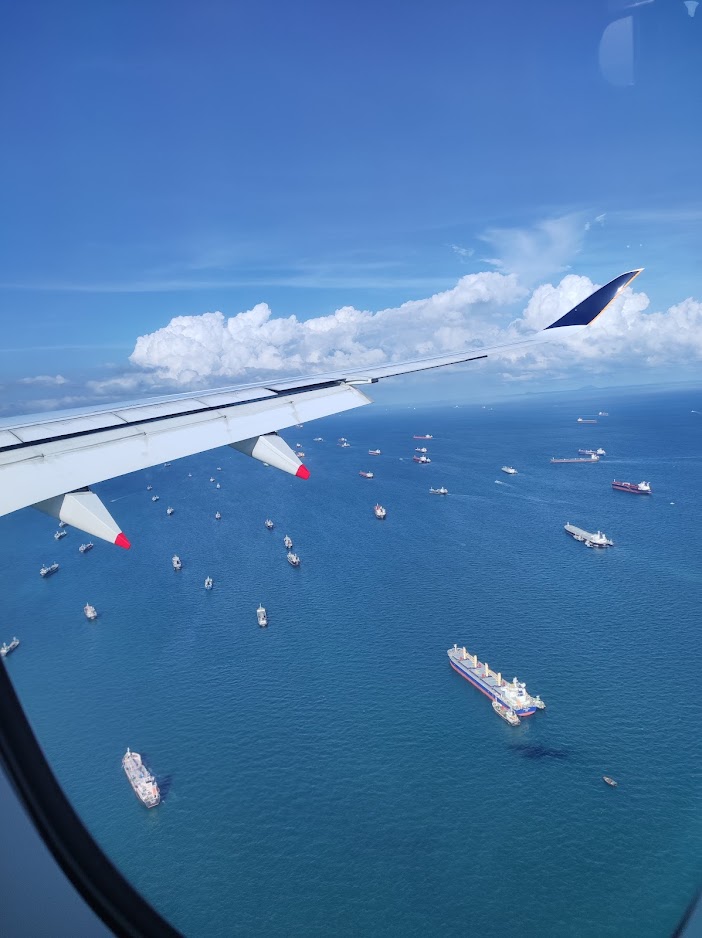 Preise / Preise 2022/05 XXL
 Regular Box Prices valid from May 2022 / gültig ab Mai 2022 for our box or competitor boxes (max 190L)
Please be informed that prices can change any time and will be published here online / Bitte beachten Sie dass sich die Preise jedezeit ändern können, die aktuelle Preisliste wird hier online veröffentlicht
Prices valid for sending to same recipient / Preise gültig für Sendungen an selben Empfänger
Regionen/Regions

XXL Box 73x44x57cm = 183Liter
Preise gültig bis 70KG / Karton.
Tür zu Tür / Door to door service

1 or 2 boxes  to same recipient

3 boxes to same recipient

6 or more boxes - same recipient

Manila

Caloocan City, Las Pinas, Makati, Malabon, Mandaluyong, Manila, Marikina, Muntinlupa, Navotas, Paranaque, Pasay, Pasig, Pateros, Quezon City, San Juan, Taguig, Valenzuela

 90

Shipping fees included Germany to Philippines Door to Door

Midle Luzon

Batangas, Bataan, Bulacan,  Laguna, Pampanga,  Nueva Ecija, Pangasinan, Quezon, ,Zambales, Tarlac, Cavite, Rizal 

95

90

90

North/South Luzon

Abra, Albay, Aurora, Benguet, Cagayan Province, Camarines,  Catanduanes, Ifugao, Ilocos, Isabela, Kalinga, Apayao, La Union, Mindoro, Mountain Province, Nueva Viscaya, Quirino, Sorsogon

100

95

90

Visayas / Mindanao

Aklan, Antique, Capiz,  Ilo-Ilo, Negros Occ., Negros Or., Samar, Bohol, Cebu, Biliran, Leyte, Agusan, Basilan, Bukidnon, Davao, Lanao, Misamis, Cotabato, Sultan Kudurat, Surigao, Zamboanga

110

105

100

All other provinces / offshore islands

 Basilan Island, Zulu Islands, 

125

120

Examples/Beispiele

In the price of the empty boxes all custom fees and freight surcharge is included. This price list is the final door to door price for the cargo

Im Preis für die Leerkartons sind alle Zollgebühren und Frachtzuschläge enthalten. Diese Preisliste zeigt Endpreis für den Tür zu Tür Service von Deutschland auf die Philippinen

4 half boxes to Mindanao = 2 xxl boxes

2 half boxes to Cebu = 1 xxl box

6 half boxes to Davao = 3 xxl boxes

Extra cost /

Zusatzkosten

Special sizes: 0.,70 € / Liter to all regions.

Extra charge for oversize XXL standard boxes 30 Eur.

Sending additional or new papers upon request 2,50 EUR.

 

Overweight charge for boxes more then 70 KG each 10kg overweight = 10 € 

Box not ready for pick up at scheduled time and no information to us min 2 days before pick up 30 EUR charge

If box pick up not at ground level 5 EUR extra charge per box.

Sondermaße 0.70€/Liter alle Regionen

Übermaß der Standard Box 30 EUR

Zusätzliche Papiere anfordern per Post 2,50 EUR

 

Übergewicht mehr als 70 KG für je 10kg mehr = 10€

Zum vereinbarten Termin nicht abholbereit 30 EUR für Anfahrt wenn nicht min 2 Tage vor Abholung mitgeteilt

Wenn Abholung nicht im Erdgeschoss möglich 5 EUR Zusatzkosten pro Box

Replacement for lost items

Entschädigung für verlorene Gegenstände

Up to 200 EUR for lost box or missing items included in freight price. You can add 10 EUR for another 200 EUR replacement amount.

Special sizes 1 EUR each liter replacement amount when lost.

200 EUR Entschädigung für eine verloren gegangene XXL Box oder fehlende Waren bereits im Frachtpreis enthalten. Für je 10 EUR weitere 200 EUR Ersatzleistung.

Sondermaße je 1 EUR pro Liter Ersatzleistung bei Verlust.
Preise / Preise 96 Liter Box 2022/05 = half box / halbe box
 44x73x30cm = 96 Liter Box Prices valid from April 2022 / gültig ab April 2022
prices valid only when sending to same recipient / Preise gültig für Sendungen an selben Empfänger
Regionen/Regions

Box 73x44x30cm = 96 Liter
Preise gültig bis 31,5KG / Karton.
Tür zu Tür / Door to door service

1 BOX

box price when sending 2-5 boxes

 sending 6-11

12 or more

Manila

Caloocan City, Las Pinas, Makati, Malabon, Mandaluyong, Manila, Marikina, Muntinlupa, Navotas, Paranaque, Pasay, Pasig, Pateros, Quezon City, San Juan, Taguig, Valenzuela

 60 ( door to door Germany to Philippines )

 

45 ( each box door to door Germany to Philippines )

 

Midle Luzon

Batangas, Bataan, Bulacan,  Laguna, Pampanga,  Nueva Ecija, Pangasinan, Quezon, ,Zambales, Tarlac, Cavite, Rizal 

62,50

47,5

45

45

North/South Luzon

Abra, Albay, Aurora, Benguet, Cagayan Province, Camarines,  Catanduanes, Ifugao, Ilocos, Isabela, Kalinga, Apayao, La Union, Mindoro, Mountain Province, Nueva Viscaya, Quirino, Sorsogon

65

50

47,50

45

Visayas / Mindanao

Aklan, Antique, Capiz,  Ilo-Ilo, Negros Occ., Negros Or., Samar, Bohol, Cebu, Biliran, Leyte, Agusan, Basilan, Bukidnon, Davao, Lanao, Misamis, Cotabato, Sultan Kudurat, Surigao, Zamboanga

70

55

52,5

50

All other provinces / offshore islands

 

77,50

62,50 

60

60

Half Boxes 

Nationwide pick up every working day.

No weight limit for own driver pick up

In the price of the empty boxes all custom fees and freight surcharge is included. This price list is the final door to door price for the cargo

4 half boxes to Mindanao = 2 xxl boxes

2 half boxes to Cebu = 1 xxl box

6 half boxes to Davao = 3 xxl boxes

Extra cost /

Zusatzkosten

Special sizes: 0.,70 € / Liter to all regions.

Extra charge for oversize XXL standard boxes 30 Eur.

Sending additional or new papers upon request 2,50 EUR.

Overweight charge for half boxes boxes more then 35 KG = 20 EUR

Box not ready for pick up at scheduled time and no information to us min 2 days before pick up 30 EUR charge

If box pick up not at ground level 5 EUR extra charge per box.

Sondermaße 0.70€/Liter alle Regionen

Übermaß der Standard halbe Box 15 EUR

Zusätzliche Papiere anfordern per Post 2,50 EUR

Übergewicht mehr als 35 KG = 20 EUR

Zum vereinbarten Termin nicht abholbereit 30 EUR für Anfahrt wenn nicht min 2 Tage vor Abholung mitgeteilt

Wenn Abholung nicht im Erdgeschoss möglich 5 EUR Zusatzkosten pro Box

Replacement for lost items

Entschädigung für verlorene Gegenstände

Up to 100 EUR for lost box or missing items included in freight price. You can add 10 EUR for another 200 EUR replacement amount.

Special sizes 1 EUR each liter replacement amount when lost.

100 EUR Entschädigung für eine verloren gegangene Box oder fehlende Waren bereits im Frachtpreis enthalten. Für je 10 EUR weitere 200 EUR Ersatzleistung.

Sondermaße je 1 EUR pro Liter Ersatzleistung bei Verlust.

Special rules for DHL pickup

DHL Pick UP box maximum 31.5kg. No foile or lashing strap allowed. DHL will charge us 20 EUR for each violation which we have to forward to you.

You receive our retoure label so you wont pay any additional for DHL pick up. Your boxes will then be delivered to our warehouse and we prepare the shipping to the Philippines

DHL Abholung maximal 31.5 kg. Keine Folien oder Spanngurte erlaubt. DHL berechnet uns 20 EUR Strafe für Nichteinhaltung.

Sie erhalten ein DHL Retoure Label von uns. Es entstehen Ihnen keine weiteren Kosten für die Abholung. Die Pakete werdend an unser Lager geliefert, wir machen die Verschiffung auf die Philippinen