Call us +49 (0) 6266 9699 000
Preise / Preise 96 Liter Box 2021 = half box / halbe box
 44x73x30cm = 96 Liter Box Prices valid from Sept 2021 / gültig ab Sept 2021
Regionen/Regions

Box 73x44x30cm = 96 Liter
Preise gültig bis 31,5KG / Karton.
Tür zu Tür / Door to door service

1 BOX

box price when sending 2 boxes

 sending 3

4 or more

Manila

Caloocan City, Las Pinas, Makati, Malabon, Mandaluyong, Manila, Marikina, Muntinlupa, Navotas, Paranaque, Pasay, Pasig, Pateros, Quezon City, San Juan, Taguig, Valenzuela

 55 ( door to door Germany to Philippines )

 

40 ( each box door to door Germany to Philippines )

 

Midle Luzon

Batangas, Bataan, Bulacan,  Laguna, Pampanga,  Nueva Ecija, Pangasinan, Quezon, ,Zambales, Tarlac, Cavite, Rizal 

60

45

45

40

North/South Luzon

Abra, Albay, Aurora, Benguet, Cagayan Province, Camarines,  Catanduanes, Ifugao, Ilocos, Isabela, Kalinga, Apayao, La Union, Mindoro, Mountain Province, Nueva Viscaya, Quirino, Sorsogon

62,5

 47,50

47,50

45

Visayas / Mindanao

Aklan, Antique, Capiz,  Ilo-Ilo, Negros Occ., Negros Or., Samar, Bohol, Cebu, Biliran, Leyte, Agusan, Basilan, Bukidnon, Davao, Lanao, Misamis, Cotabato, Sultan Kudurat, Surigao, Zamboanga

65

50

50

47,50

All other provinces / offshore islands

 

72,50

57,50 

52,50

52,50

Half Boxes 

Half boxes weight limit 31kg for DHL pick-up, nationwide pick up every working day.

No weight limit for own driver pick up Region Frankfurt Kaiserslautern Stuttgart Pforzheim Baden and between

 In the price of the empty boxes all custom fees and freight surcharge is included. This price list is the final door to door price for the cargo

Example:

2 half boxes to Mindanao = 2x50EUR= 100 Euro

2 half boxes to Cebu =  2x50 EUR = 100 Euro

4 half boxes to Davao = 4x47,50 EURO =  190 Euro 

DHL Pick UP box maximum 31.5kg. 
Extra charge for oversize half boxes 15 Eur.

Überbreite der Standart Halbe Box 15 EUR.
100€ Entschädigung wenn Ihre XXL Box verloren geht. Im Frachpreis enthalten. Höhere Entschädigung für 10 Euro je 200 Zusatzentschädigung.


XXL box nicht lieferbar
Momentan sind XXL Kartons ausverkauft. Unsere XXL Kartons sind voraussichtlich wieder ab Oktober erhältlich. 2 Halbe XXL Kartons sind gleich teuer wie ein normaler Karton, wir bitten auf die halben Kartonagen auszuweichen. 
Please be informed that XXL emtpy boxes are not available at the moment. Starting October the new XXL boxes will be available again. 2 half XXL Boxes together are same price as one normal box so we ask you to use the half boxes instead.
Kartonagenpreise
Hier die Preise für unsere Leerkartonagen inkl. Versand der Leerkartons und aller Frachtzuschläge
Here our prices for XXL and half empty boxes incl. shipping of empty box to your home and all freight surcharges
Please order here at our website
| | | |
| --- | --- | --- |
| Anzahl | XXL 183Liter 73x44x57cm | halbe XXL 96 Liter 73x44x30cm |
| 1 | 14 € | 8 € |
| 2 | 25 € | 14 € |
| 3 | 36 € | 19,5 € |
| 4 | 47 € | 25 € |
| 5 | 58 € | 30,5 € |
| 6 | 69 € | 36 € |
| 7 | 80 € | 41,5 € |
Preise / Preise 2021
 Regular Box Prices valid from January 2021 / gültig ab Januar 2021 for our box or competitor boxes (max 190L)
We accept LBC boxes. Please be aware LBC Large Box is 212 Liters and costs 15EUR additional to our price. LBC Medium has no extra fee. Special sizes and self constructed boxes or extended boxes or wood boxes of any size calculated by liter price 70 cents/liter.
Wir akzeptieren LBC Kartons. LBC Large Kartons sind im Volumen 212 Liter und kosten 15 EUR Aufpreis (unsere Box hochgerechnet) LBC Medium Kartons entsprechen unseren Kartons und kosten keine Aufpreis. Sondermaße und selbst konstruierte Boxen oder erweiterte Boxen oder Holz Kisten jeder Abmessung kosten nach Volumen 70 Cent/Liter 
Regionen/Regions

XXL Box 73x44x57cm = 183Liter
Preise gültig bis 70KG / Karton.
Tür zu Tür / Door to door service

1 BOX

2

3

4 or more

Manila

Caloocan City, Las Pinas, Makati, Malabon, Mandaluyong, Manila, Marikina, Muntinlupa, Navotas, Paranaque, Pasay, Pasig, Pateros, Quezon City, San Juan, Taguig, Valenzuela

 80

Shipping fees included Germany to Philippines Door to Door

Midle Luzon

Batangas, Bataan, Bulacan,  Laguna, Pampanga,  Nueva Ecija, Pangasinan, Quezon, ,Zambales, Tarlac, Cavite, Rizal 

90

85

80

80

North/South Luzon

Abra, Albay, Aurora, Benguet, Cagayan Province, Camarines,  Catanduanes, Ifugao, Ilocos, Isabela, Kalinga, Apayao, La Union, Mindoro, Mountain Province, Nueva Viscaya, Quirino, Sorsogon

95

90

85

80

Visayas / Mindanao

Aklan, Antique, Capiz,  Ilo-Ilo, Negros Occ., Negros Or., Samar, Bohol, Cebu, Biliran, Leyte, Agusan, Basilan, Bukidnon, Davao, Lanao, Misamis, Cotabato, Sultan Kudurat, Surigao, Zamboanga

100

95

90

85

All other provinces / offshore islands

 

115

105

Half Boxes 

Price for 2 half boxes is equivalent to 1 xxl box including kartons.
Price for 4 half boxes is equivalent to 2 xxl boxes and so on according to region of xxl boxes. Same price but safer transportation.Minimum 2 half boxes to same destination to get same prices as xxl boxes
Additional +15 Euro if single box to one destination.Half boxes weight limit 31kg, nationwide pick up every working day.
 

Example:

4 half boxes to Mindanao = 2 xxl boxes = 2x95 Euro

2 half boxes to Cebu = 1 xxl box = 100 Euro

6 half boxes to Davao = 3 xxl boxes = 3x90 Euro 

 

In the price of the empty boxes all custom fees and freight surcharge is included. This price list is the final door to door price for the cargo
XXL Box suiteable for max 70kg. No insurance for overweight boxes. We do not charge overweight till 90 kg. For heavier boxes we cant give any insurance. Special sizes: 0.,70 € / Liter to all regions.
DHL Pick UP box maximum 31.5kg. 
Extra charge for oversize XXL standard boxes 30 Eur.

Überbreite der Standart Box 30 EUR. "LBC Large" Box 15 EUR Aufpreis.
Vergebliche Anfahrt 30 Euro wenn Kunde nicht zum vereinbarten Termin anzutreffen ist.
Please provide access to the pick up crew at ground floor level or elevator. 3rd party expedition pickup might reject pick up if too many stairs.
200€ Entschädigung wenn Ihre XXL Box verloren geht. 100 Euro Entschädigung je halbe Box. Im Frachpreis enthalten. Höhere Entschädigung für 10 Euro je 200 Zusatzentschädigung.
Sondermaße Ersatzleistung 1 Euro pro Liter Fracht bei Verlust der Fracht oder Diebstahl
Half empty balikbayan box

Half empty balikbayan box  size of ( 73x44x30cm ) 96 Liters we pick up with own driver in our ZIP Code areas and with no weight limit for balikbayan goods  or with DHL for remote areas limit 31,5KG
Advantages:
More stable box: The box is suitable for 70kg as per factory 
Free workday scheduling when sending: You can give your ready filled box to any DHL driver or DHL office. Alternatively we can schedule a driver to come to you and to pick up the box at the desired day.
Easy handling because the boxes are not so big and heavy instead the weight is divided into 2.
Possible sending of one single half box to separate destinatinon with additional fee of 15 EUR.
2 half boxes cost as much as one XXL box and discount applies for more boxes. 2 half boxes same price as one big box.
How a container with balikbayan boxes is loaded
You can track your boxes here on our website.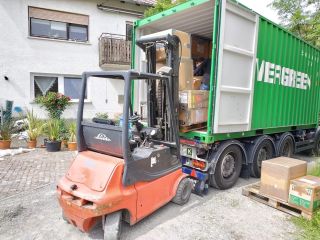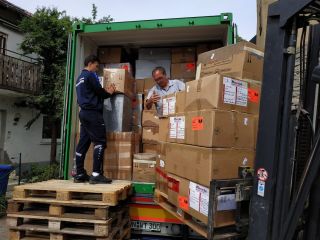 Please do not extend the box size, as you can see in the picture we use to place 5 boxes in one row and if the boxes are oversized we can only place 4 boxes. Please be informed that we have to charge the oversized boxes.
In this picture you can see how we load the boxes in the container. The oversized boxes are likely to be overweight also and can damage easily.