Call us +49 (0) 6266 9699 000
Nächste Beladung
Bitte melden Sie für den October Container Ihre Balikbayan Box rechtzeitig zur Abholung an. Abholtermin finden Sie hier auf unserer Seite. Wir holen Deutschlandweit ab bis 31.5kg und im Raum Frankfurt Stuttgart Baden Baden Freiburg Saarbrücken mit eigenem Fahrer bis ca 70kg.
Please schedule your Pick up of your balikbayan box for   October . Pick up schedules you can find here at our site. We pick up all over Germany boxes with 31.5kg and in Region Frankfurt Stuttgart Baden Baden Freiburg Saarbrücken with own driver up to 80kg
Price for empty boxes
Here our prices for XXL and half empty boxes incl. shipping of empty box to your home and all freight surcharges
Please order here at our website
| | | |
| --- | --- | --- |
| Anzahl | XXL 183Liter 73x44x57cm | half XXL 96 Liter 73x44x30cm |
| 1 | 14 € | 9 € |
| 2 | 25 € | 14 € |
| 3 | 36 € | 19,5 € |
| 4 | 47 € | 25 € |
| 5 | 58 € | 30,5 € |
| 6 | 69 € | 36 € |
| 7 | 80 € | 41,5 € |
 Sending additional or new papers upon request 2,50 EUR. 
Last container loading
Our last container loading was sucessfully done. The Container is now on the way to Manila Port and will arrive there in around 2 Months. Due to massive port congestions we expect delays at the sea way, however this cannot be estimated right now. We hope the situation will calm down again soon. We say thank you to all our clients for their trust and we are looking forward to your next order. 
We collect now your boxes for the current container of this month, please call or email for pick up schedule.
Please be aware of that very heavy boxes are rather divided in several smaller boxes as they are better to handle. Thats why we also offer our half boxes to half prices. You only advantages using the half boxes. 
For pick up with own driver we accept 70 kg per box. Please do not overload your box and dont deform the boxes as this might cause extra charge.
Our own driver will pick up boxes between Bodensee and Frankfurt, between Saarbrücken and Würzburg. Additianlly we have a pick up tour starting Berling going to Hamburg Bremen Bielefeld Düsseldorf Köln Koblenz Frankfurt and finally to our location near Heilbronn.
All other regions in Germany including the German islands we serve by using a parcel service which will bring your boxes to our warehouse here in Germany. We will then do the custom declaration and ship your box with the next container shipping to the Philippines.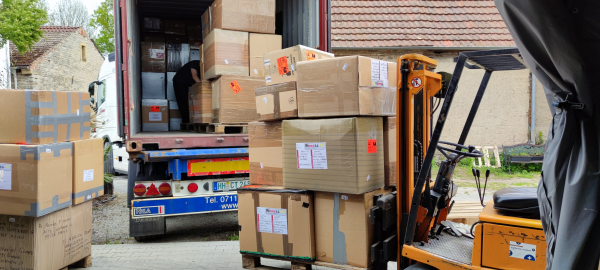 How a container with balikbayan boxes is loaded
You can track your boxes here on our website.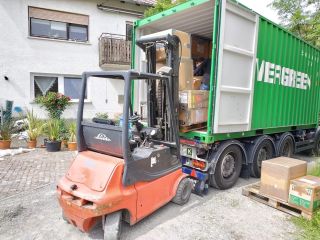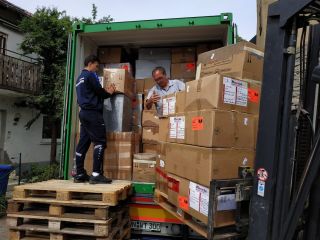 Please do not extend the box size, as you can see in the picture we use to place 5 boxes in one row and if the boxes are oversized we can only place 4 boxes. Please be informed that we have to charge the oversized boxes.
In this picture you can see how we load the boxes in the container. The oversized boxes are likely to be overweight also and can damage easily.